Coetium
An app that allows those with allergies to figure out where allergies are in relation to them. Allowing people to have a better understanding of what they are allergic to and what areas to avoid.
Approach
Primary and secondary research
Insight analysis
Opportunities analysis
Customer Journey Map
Wire-framing New Screens
User Testing
Prototyping

Brief
​Create a service or product that does not exist and is in service of people for their betterment.

​Personal Responsibilities
​Primary and secondary research, user testing, feature development, finalizing app design, print, video editing/shooting, and branding.
​
Solo Project

Time Frame:
4 weeks
The Problem
| | |
| --- | --- |
| Allergies are on the rise around the world with no signs of slowing down. How might we create a service that allows people to better understand their allergies and prepare for them. | |
Key Features
---
Process
I wanted to really get a feel and have a constant reminder of what a day in the life of an allergy sufferer was like to bring home the idea that if properly designed this app could actually really help people.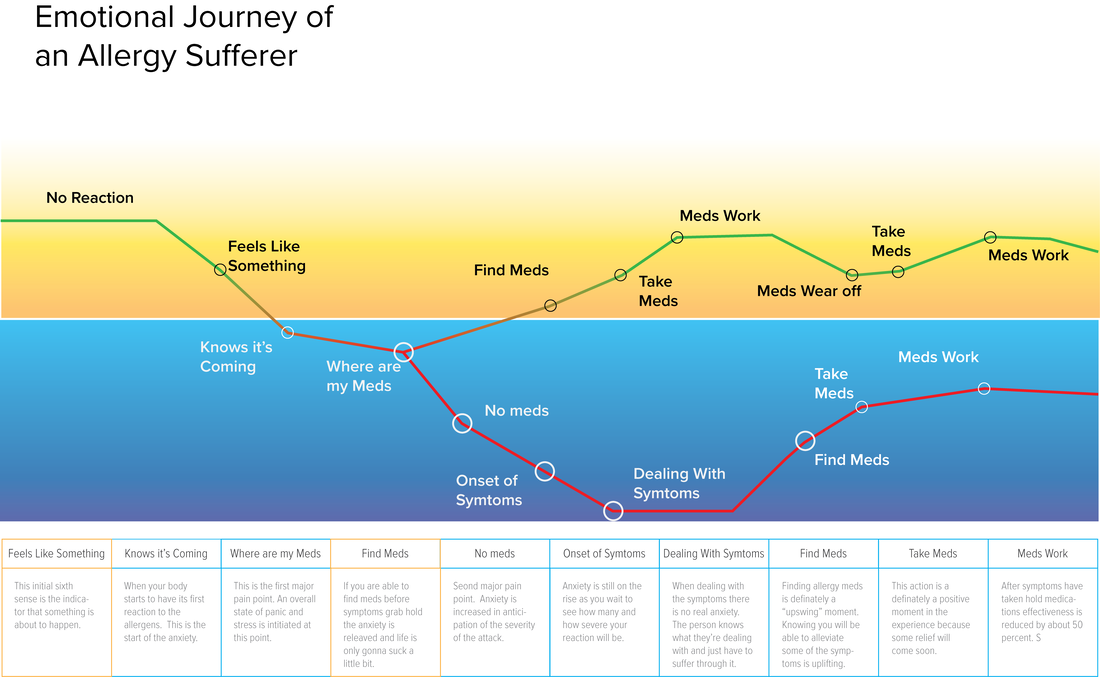 Insights
The insights that I gathered from the interviews helped me to understand what the main features of the app would be. There seemed to be an over all interest in air quality but not a clear path to having people use the app unless they were severe allergy sufferers.
?

$

Often when people have allergies they don't actually know what they are allergic to.

Allergy tests are often out of many peoples financial reach. A through allergy test can be between $500 to $1200.
| | | | |
| --- | --- | --- | --- |
| # | | While weather sites and news give people a broad view of allergens they are ofter specific and limited (eg. Ragweed will be particularly high today). | |
Basic Workflows
I wanted to make the app as simple and straight forward as possible. The idea is to make life better for people, not have another extra long experience to deal with. I worked on the basic flows that I wanted and what would be accessible to the user.