Eupnea
An app that allows those with allergies to figure out where allergies are in relation to them. Allowing people to have a better understanding of what they are allergic to and what areas to avoid.
Approach
Primary and secondary research
Insight analysis
Opportunities analysis
Customer Journey Map
Wire-framing New Screens
User Testing
Prototyping

Brief
​Create a service or product that does not exist and is in service of people for their betterment.


​Personal Responsibilities
​Primary and secondary research, user testing, feature development, finalizing app design, print, video editing/shooting, and branding.
​
Solo Project

Time Frame:
4 weeks
The Problem
Allergies are on the rise around the world with no signs of slowing down. How might we create a service that allows people to better understand their allergies and prepare for them.
History

Users can check monthly to see what allergens were near them. Giving them an idea of what they may be allergic to.

Allergy tests can cost between $350 and $1200. Giving people the ability to make an educated guess about when they are allergic to and when it is most prevalent could be very helpful.
---
Process
I wanted to really get a feel and have a constant reminder of what a day in the life of an allergy sufferer was like to bring home the idea that if properly designed this app could actually really help people.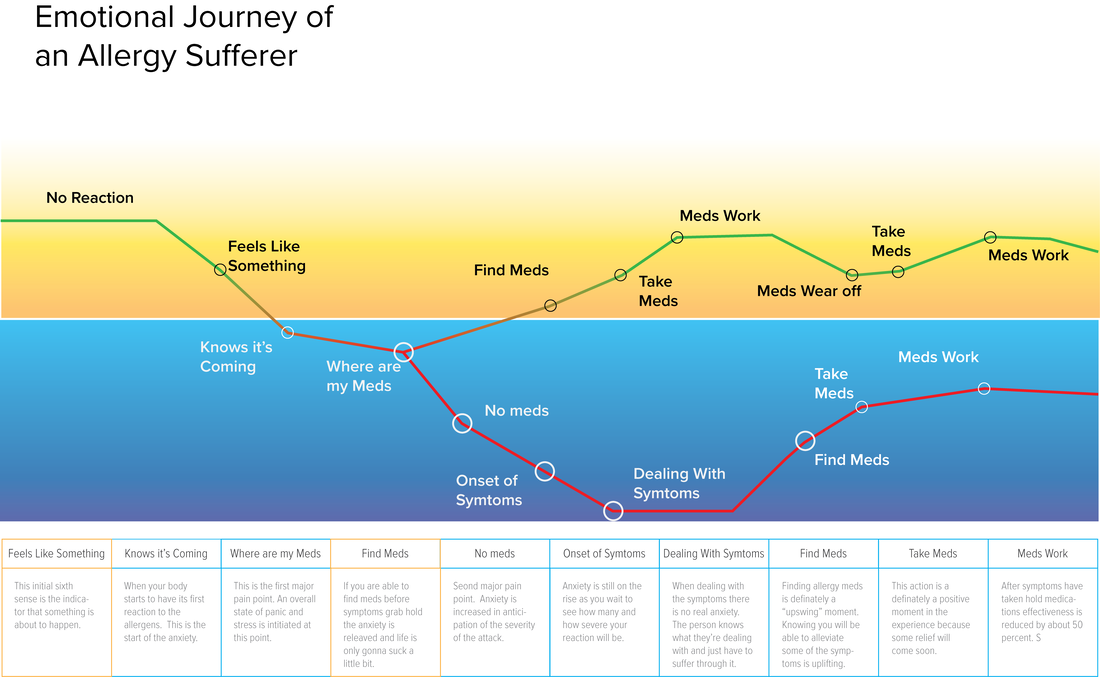 ?

$

Often when people have allergies they don't actually know what they are allergic to; leading to unnecessary suffering.

A through allergy test can be between $500 to $1200, often out of many peoples financial reach.
| | | | |
| --- | --- | --- | --- |
| # | | While weather sites and news give people a broad view of allergens they are ofter broad but limited (eg. Top 5 allergens will be high today). | |